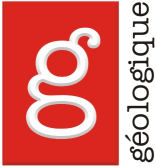 Géologique have completed mapping projects across the world, from dam foundations in Australia, to regional mapping programs in the Middle East. Our staff draw on a variety of experience to rapidly, yet accurately, develop an understanding of the region within which the site is located.
We have a long history of using Geographic Information Systems (GIS) to compile and interrogate historic and recent data, allowing us to achieve a better understanding of the project area. We utilise as much information as practical, including aerial photography and satellite imagery.
Our mapping is of a high standard and field mapping is of sufficient quality as to not require re-drafting in most cases.
Measured stratigraphic sections have also been completed for several projects allowing development of the depositional history of the area.

Data Management & Geographic Information Systems (GIS)
Since 1999, key members of Géologique have been using GIS to store, assess, interpret and present spatial data. We pride ourselves on developing datasets and systems to manage all kinds of data relating to the project, including reports, photographs, assay results, and borehole data.
Our staff have experience in the development of Access databases to allow data to be stored and retrieved with ease. Géologique has developed it's own In-house logging software, Cedric.


The founder of Géologique commenced his career exploring for coal in Queensland's Bowen Basin. He was part of team responsible for the identification and development of the Moorvale Mine, south of Coppabella.
Géologique is able to provide field exploration services including borehole supervision (contractor logistics, chip and core logging, wireline interpretation, sampling, brightness profiling), as well as data management and interpretation in the exploration office. Preliminary resource models have also been prepared and supervised by our staff.
Géologique have been involved in the compilation of statutory reports for submission to the Government Departments responsible for the administration of the exploration tenements.
Whilst the majority of our experience is with Black Coal (PCI, Thermal, Soft Coking), we have some experience with the lower rank coals of southern New Zealand.